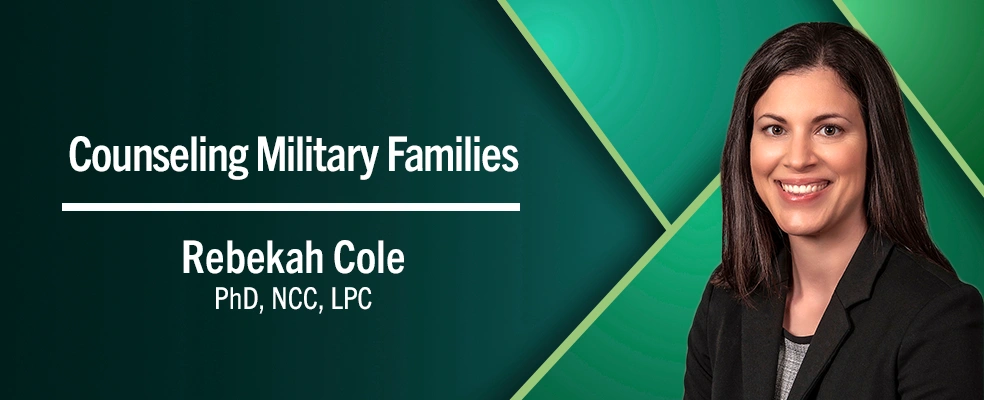 As an active-duty military spouse who has lived in Italy, Japan, and across the United States, Rebekah Cole, PhD, NCC, LPC, has seen firsthand the challenges that military families face. Dr. Cole believes that the skillset of professional counselors is a perfect match for the social, emotional, and mental health needs of military families, and as a result, she has dedicated her career to helping the counseling community understand its potential for helping service members and their families.
Dr. Cole earned an MEd in school counseling from the College of William and Mary and a PhD in counseling from Old Dominion University. She is currently a research associate professor in the Department of Military and Emergency Medicine at the Uniformed Services University of the Health Sciences in Bethesda, Maryland, where she conducts field research on military medical field practicums and studies the impact of mental health and wellness on operational performance. She also volunteers for the Give an Hour® organization, which provides free mental health services for military service members and their families and has written extensively about working with military populations.
She recently shared her thoughts about counseling military families and understanding the unique challenges that are inherent in military culture.
What do you enjoy most about counseling military families?
I am impressed and inspired by the bravery and resiliency of military spouses and children. Like their service members, spouses and children are committed to the military's mission of keeping our country safe and secure. They are brave and true to accomplishing this mission, no matter the cost.
How does counseling military families differ from counseling civilian families?
Counselors must be familiar with the unique nature of military culture when working with military families, including its language, expectations, and sense of duty and hierarchy. The more culturally competent that counselors are, the better they can form effective working relationships with military families. Overall, counselors should understand that military families are proud of their service and sacrifice and want to be recognized for their strength in overcoming challenges unique to the military lifestyle.
What are some of the biggest challenges that military families face?
Military families face constant uncertainty and transition. They move every 2–3 years, often with a moment's notice. Moving to a new area away from friends and family is lonely, as it takes time to adjust to a new home, neighborhood, and community. In addition, when the service member deploys overseas for extended periods of time, the family must adjust to a new norm amidst the pain of separation. Children must shift to relying on one caregiver and the at-home spouse must take on the full responsibility of the home and family. In addition, the family often fears for the safety of the service member and may not be able to communicate regularly with them. One of the biggest challenges for military spouses is finding a job as they move from place to place. Not being able to maintain a career often results in a loss of identity and feelings of frustration and worthlessness.
How does military service affect spouses and children of service members?
Military spouses and children serve and sacrifice alongside their service member. Spouses must learn to navigate constant moves and adjust to caring for their children on their own during deployments. Military children must become accustomed to adapting to new schools and new neighborhoods. My daughter, for example, attended four elementary schools in three countries by the time she was 7 years old. Military families often face mental health challenges as a result of living in this constant state of flux. However, they also become incredibly resilient as they learn to bloom wherever they are planted.
What sort of mental health resources does the military provide these families?
Military families can seek counseling services through Military One Source, which connects them with a counselor in their local area (or virtually) and provides a plethora of educational resources related to mental health and wellness. In addition, the Military and Family Life Counseling Program (MFLC) is housed on every military installation and offers counseling services to military families free of charge. TRICARE is the health care program for military families and provides mental health services for family members. A final resource for military families is the Psychological Health Resource Center, which provides a 24/7 phone line and chat feature for families to ask questions and find resources to support their mental health.
How can counselors begin to understand military families better? Are there any resources you'd recommend?
Counselors should encourage military families to tell their stories—the places they've lived, the deployments they've endured, and the communities they adapted as their own. Volunteering on military installations with organizations like the United Service Organizations (USO) will provide counselors with exposure to the military culture and will help them become familiar with the military language and customs.
What advice would you give someone interested in counseling military families?
If you are unfamiliar with military culture, don't shy away from working with military families. In exchange for your genuine interest in their culture and lifestyle, military families will welcome your help and support with open arms. There are many great professional development resources for counselors on military culture and reading about the bravery and sacrifice regularly shown by military families will help you to effectively meet the needs of this inspiring population.
The opinions and assertions expressed herein are those of the author and do not reflect the official policy or position of the Uniformed Services University of the Health Sciences or the Department of Defense.