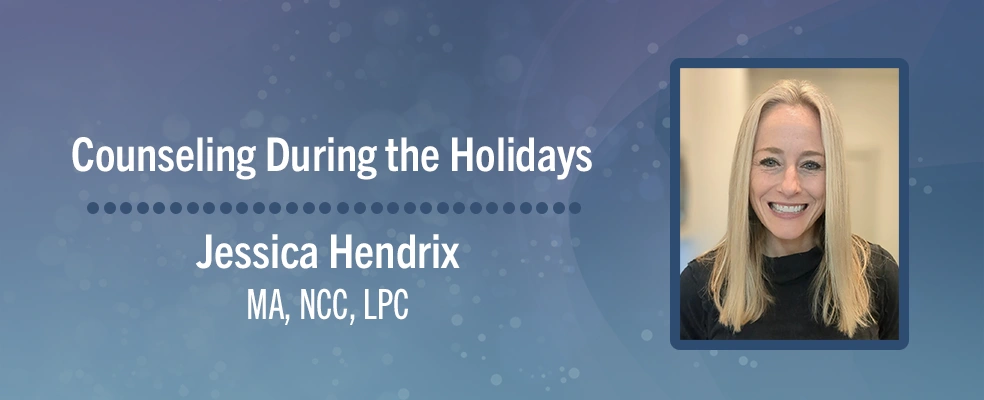 Though the winter holidays can be a joyous time, it can be a difficult time for many people, including counselors and their clients who struggle during the season. Jessica Hendrix, MA, NCC, LPC, of Iron City Counseling in Alabama recently shared some special considerations when counseling during the holidays.
About 64% of people with mental illness say that the holiday season makes them feel worse, according to a study by the National Alliance on Mental Illness. Additionally, a 2021 poll conducted on behalf of the American Psychiatric Association (APA) found that Americans are five times more likely to report that their stress level increases during the holidays, and 47% of adults say they feel anxious because they miss family members.
There are a multitude of reasons for these heightened feelings—loneliness, grief, financial burdens, travel, and fatigue are all common stressors. Many deviate from usual routines, eating and drinking differently and perhaps exercising less because of busy schedules.
"Some of the most common holiday struggles I see often have to do with family issues," Hendrix says. "The holidays represent a time where family can gather and spend time together, and this can be a very stressful time for clients re-entering a family dynamic that is unhealthy or has unresolved conflicts.
"Additionally, there are more demands during this time, and clients are striving to meet expectations of others, whether that is deciding where to gather, whom to invite, what to bring, how much to spend, getting the perfect gift, etc., which all contribute to an increased amount of stress," Hendrix says. "Another struggle I commonly see are clients struggling with grief. The holiday season can bring to light more than ever the loss of a loved one. They are having to learn ways to cope with the pain of that loss and find a new normal."
Planning can help prevent or relieve some of the pressure that the holiday season brings, she says.
"I try to remind my clients to check in with themselves regularly. It is incredibly important that they are paying attention to their needs and feeding those needs. If necessary, we develop an emotional safety plan that allows the client to identify triggers and warning signs while establishing a plan on ways to cope with each of these possibilities. In times of distress or despair it is a lot harder to think clearly, so if a client has already established a plan of action, it makes it a lot easier for them to navigate this difficult time."
Hendrix says she also works with clients to help them set boundaries, find flexibility, focus on self-care such as diet and exercise, and ensure that they are reaching out for support when they need it.
Counselors are oftentimes struggling to balance many of these same challenges, which is why Hendrix says that self-care is also critical for counselors.
"Be aware of the signs and symptoms of compassion fatigue and burnout and assess how it might be manifesting in you. Make sure you are putting yourself first and not neglecting your own needs," she says. "Create healthy boundaries professionally and personally to prevent overextending yourself. Reach out for support whether that is sharing with a colleague who understands your daily struggles or seeking professional help. And lastly, take time for yourself if that is what is needed."
Prioritizing what truly matters to you rather than trying to re-create the ideal scenario we see in movies and television programs may help alleviate some of the holiday stress that many of us experience.
"Instead of striving for the 'perfect holiday' and getting overwhelmed with all the 'have tos' or 'shoulds,' give yourself permission to focus on what's really important to you during this time (happiness, being with family, gratitude)," Hendrix says. "Once you have decided what you want the holidays to mean to you, take action to protect that by letting go of the tasks or obligations that take away from this new perspective."
It is important to not diminish the experience of clients as they navigate through this time. What is commonly thought of as "the holiday blues" may actually be seasonal affective disorder (SAD), which are not the same.
"The 'holiday blues' has to do with the psychological conflicts that holidays can pose on people, and it only lasts a couple of weeks surrounding the holiday season," she says. "People who suffer from SAD are suffering from clinical depression that lasts much longer than the holidays and is not a direct result from obvious seasonal stressors. Also, people suffering from SAD are more likely to see physical changes such as in eating, sleeping, and energy level."
As we navigate our work, family lives, and social obligations this holiday season, Hendrix shares a few words of advice for fellow counselors: "Be kind to yourself and live in the present."
Jessica Hendrix, MA, NCC, LPC, is a Licensed Professional Counselor. She received a master's degree in clinical mental health from the University of Alabama at Birmingham and is also a National Certified Counselor.