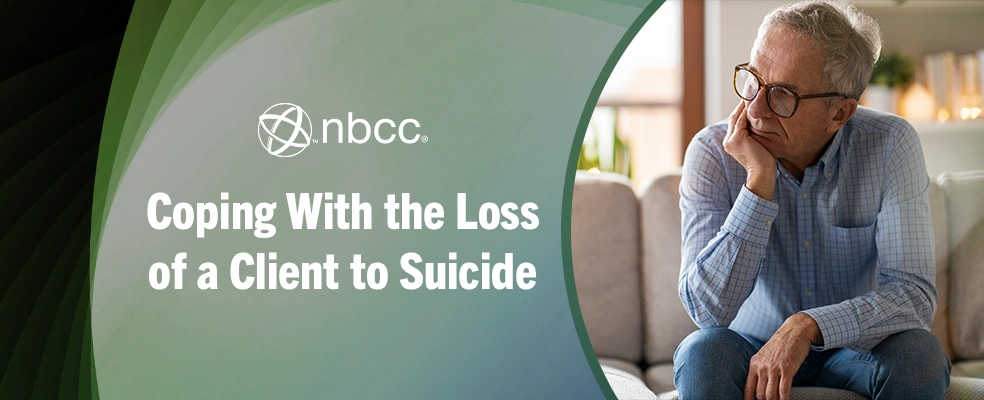 Suicide is a significant global health issue. According to Suicide Awareness Voices of Education (SAVE), one of our nation's first organizations dedicated to the prevention of suicide, more than 48,000 individuals die annually from suicide in the United States, making it the 11th-leading cause of death in our nation. Worldwide, the number increases to nearly 800,000.
Though these are overwhelmingly high numbers, an even larger number encompasses those impacted by the loss of someone to suicide. A suicide loss survivor is a person who has lost a family member, friend, classmate, or colleague to suicide. This experience is oftentimes met with intense emotional, physical, and/or social anguish. According to the Centers for Disease Control and Prevention, the number of suicide survivors in the United States is over 5.8 million (1 in every 59 Americans).
The New York State Office of Mental Health's Suicide Prevention Center reports that one in two mental health professionals will lose a client to suicide during their training or careers. This then begs the question, who "helps the helpers?" How can counselor educators and supervisors support their supervisees through their grief and various reactions? Client suicide can be an extraordinarily traumatic experience and should be met with a proactive, rather than a reactive, response.
"Peer consultation groups can be a helpful resource in supporting counselors through this challenging time," says Dr. Allison Forti, NCC, LCMHC, the Associate Director of Online Programs in Wake Forest University's Counseling Department. "Losing a client to suicide is a complicated loss. Counselors need support in processing their grief, reassurance that they followed best practices of care, and guidance on how to navigate potential legal issues. Without peer support, counselors may find it difficult to maintain their own well-being and to continue providing care for their clients."
Edwin S. Schneidman, the late American clinical psychologist who became known as the "father of contemporary suicidology," coined the term postvention, which is the response following a suicide to help alleviate a survivor's suffering and emotional distress. According to the Suicide Prevention Resource Center, such activities are crucial in preventing additional trauma and contagion.
In addition to seeking peer consultation groups, below are four postvention techniques that supervisors can take with their supervisees:
1) Be Gentle in Your First Response.
Upon notification of a client's death, supervisors should first provide comfort to their supervisee. Having an open discussion in a private, non-judgmental setting within 24 hours can help assess their reactions. Particularly, is there diminished confidence in their professional abilities? Are they replaying their final interactions with the client and pondering if their approach was to blame? A study conducted at Marquette University reports that common reactions in supervisees include shame, self-blame, guilt, depression, preoccupation with preventing another suicide, and hesitance to work with actively suicidal or impulsive clients. Supervisees are more likely than experienced professionals to feel as though they have failed, as they may not be able to separate their personal self from the limitations of the therapeutic process yet. Therefore, in the ensuing weeks, supervisors should continue to monitor them for signs of vicarious trauma and their overall mental wellness.
Knowing the statistics on client suicide can help overcome feelings of inadequacy and shame. According to the American Psychological Association, data alone can put things in perspective. For example, suicide is often an impulsive act, and many clients have prior suicide attempts. Therefore, it is important for supervisees to understand that making changes based on one case is therefore not always the answer, as these situations are more likely than not out of their control.
3) Encourage Supervisees to Seek Their Own Therapy.
Obtaining support outside of their own professional setting may help provide a safe space for longer-term processing. Furthermore, encourage and analyze their access to personal support, whether through family or friends.
4) Promote Self-Care and Distraction.
According to The Affirmative Couch, an advocate for the mental health of LGBTQIA+ communities, it is important to alternate between processing the loss and distracting from it. Outside of their own therapy, soothing oneself with positive experiences proves helpful. Examples include spending additional time with loved ones, exercising, meditating, watching a funny movie, taking a vacation, listening to calming music, or reading a book. These activities should not be centered around client suicide or death in any way. Advise against self-destructive behaviors, such as alcohol and drug consumption or social isolation.
If you or someone you know is having thoughts of suicide, do not remain silent. Call or text 988 for the Suicide & Crisis Lifeline.