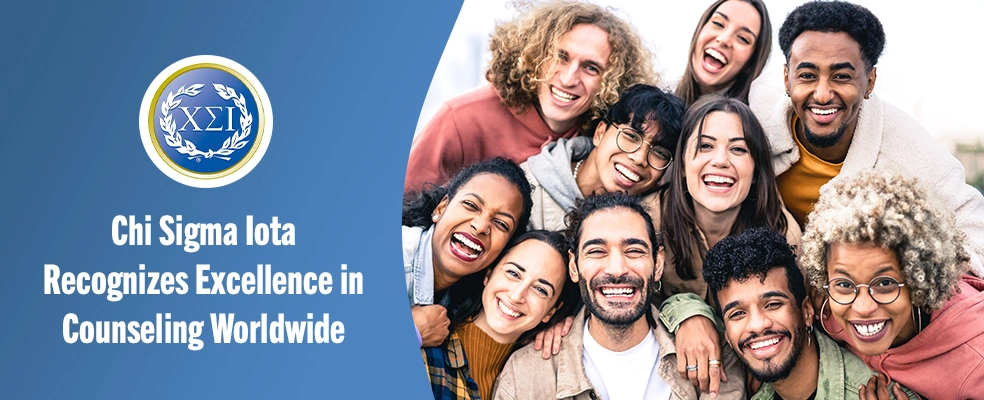 Since 1985, Chi Sigma Iota (CSI), the Counseling Academic & Professional Honor Society International, has recognized outstanding academic achievement and excellence in counseling. Though many of its members are initiated while they are students, CSI's professional development opportunities, including networking resources, job-search tips and postings, virtual education sessions, and other resources, were also created to help professional counselors and counselor educators grow and succeed throughout their careers.
Currently, CSI has more than 140,000 initiated members in more than 420 university-based chapters in the United States and other countries. New chapters are required to be accredited by the Council for Accreditation of Counseling and Related Educational Programs (CACREP), and each chapter invites its members.
To be initiated, students have to complete at least one semester of full-time graduate coursework in a counselor education program, have a 3.5 or better grade point average (GPA), and be recommended by their local chapter and approved by its faculty advisor. Faculty members and alumni who wish to join must be graduates of a counselor education program, meet the same GPA requirements, have a state or national counseling credential, and be endorsed by the faculty advisor of the chapter where they received their highest counseling degree. All members are expected to be committed to professionalism and ethical conduct.
After receiving an invitation letter from their local chapter, candidates complete a New Member Application online and submit their annual dues—$50 for new members and $40 for renewals, with discounts available for longer memberships. Once approved, they take an oath at a formal initiation ceremony to become official members eligible for CSI's many benefits.
In addition to recognizing and honoring its members for their achievements, CSI offers a wealth of professional development opportunities and helpful resources.
CSI's Counselors' Bookshelf is an interactive online space to read and write reviews of counseling-related books, films, television programs, and more. Members are also encouraged to contribute to the Journal of Counselor Leadership and Advocacy, CSI's biannual peer-reviewed journal, which publishes research and evidence-based recommendations on a variety of topics. Blogs and discussion forums can also be found on the website.
The online Career Center posts job-search tips, listings, and other employment resources. CSI internships, research grants, and volunteer opportunities are also available, along with webinars for free continuing education credit.
Each spring, CSI's annual convention provides an avenue for networking, workshops, and presentations, with awards and fellowships given. CSI Days take place at the ACA and ACES conferences, and local and statewide meetings are held throughout the year.
NBCC continues to offer unique incentives for university counselor education departments with active CSI chapters. Read more about NBCC ACEP status opportunities for counselor education departments and CSI chapters here. To learn more about CSI's benefits for counselors and counselor education programs and to apply for membership, visit the CSI website.