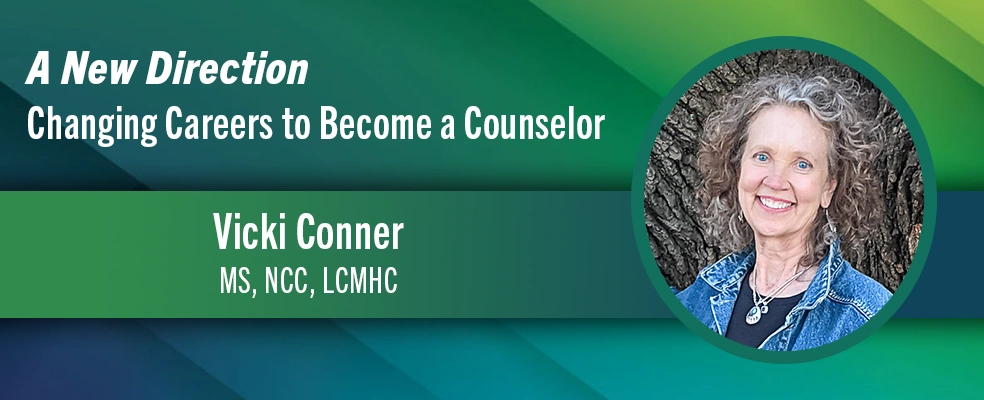 In the 1980s, Vicki Conner, MS, NCC, LCMHC, toured the world as a travel agent. She next worked for a small video production company, and later a construction consulting firm. But by 2009, as much as she had enjoyed her career, Conner was ready for a change.
"I like that my earlier roles exposed me to a variety of businesses," she says. "I got to see the world and to get a taste of professional business environments. I worked with some great fellow employees and learned facets of how a small business is operated and managed."
While these experiences proved to be useful in her future endeavors, Conner knew that obtaining a professional license was the best path forward for her.
"I had started college right after high school but did not complete undergraduate school," she recalls. "During those early days in college, I was attracted to psychology, and I soon realized that psychology still held an attraction for me.
"There wasn't a lot of time to prepare," Conner continues. "I knew I needed to make a change in careers, and I knew I needed higher education in order to make a living. In 2009, at age 51, I enrolled in Guilford College. I completed my undergraduate degree at Guilford in 2011, majoring in psychology with a minor in religion. Immediately after graduation I enrolled at UNC-Greensboro in the master's program for counseling and education development."
She remembers a few surprises along the way.
"The first surprise was opening my acceptance letter and reading the class schedule. I called the registration department to let them know there was a mistake on my schedule. I was assured by them that 21 credit hours for the first semester was no mistake. The second surprise was realizing I was at least three decades older than others in my cohort, and the third and best surprise was the support that quickly developed among members of my cohort. The commonality of our shared goal was nice, and we used it to our advantage."
After graduating, she began introducing herself to counselors with private practices.
"I had never experienced the counselor world, so I didn't know a lot of people, and they certainly didn't know me," she says. "I was interested in how they felt about insurance, rent, organizations, and day-to-day tips on how to run a practice. Those first years were trying times. I remember the week when I had five clients, and no one cancelled!"
Her admiration of the Veteran's Administration mental health services to returning service members inspired her to work primarily with clients experiencing trauma through her Greensboro, North Carolina, private practice.
"I have tried to incorporate some of the therapeutic modalities used by the VA into my practice, such as mindfulness, Eye Movement Desensitization and Reprocessing (EMDR), and cognitive behavioral therapy" Conner says. "Over the years, I have added therapies that I find most helpful, such as acceptance and commitment therapy and cognitive processing theory. This work is not easy for clients. I do my best to be present, consistent, and as simplistic as possible, but also offer versatility by adapting my approach for each individual client."
Conner works with high-functioning, often professional adults who realize that the neglect or abuse from their childhood is now creating discomfort or dysfunction in their daily lives.
"Some have never realized the symptoms they are experiencing today are trauma responses from adverse childhood experiences from the past," she says. "We replace words like 'control' to power, and 'anxiety' to curiosity and work toward the idea that we have the right to choose happiness. We learn to regulate our emotions, and when a client feels safe enough to work deeper, we discuss the benefits of EMDR. We develop a mantra to let ourselves know that we are safe in the present moment, and this takes time."
Conner says that being humbled by the grace she finds in her clients is what she enjoys most about counseling, and she's confident that she made the right decision in changing careers.
"I have seen miracles happen. When a client realizes they can regulate their emotions, to move from victim to survivor, to feel safe, and to connect mind, body, and soul through self-care and self-love, it is a reflection of ownership from the client and a measure of success for both of us. I love my work, and I never want to do anything else."

Vicki Conner, MS, NCC, LCMHC, counselor for adults, families, and couples. She specializes in anxiety and cognitive behavioral therapy.