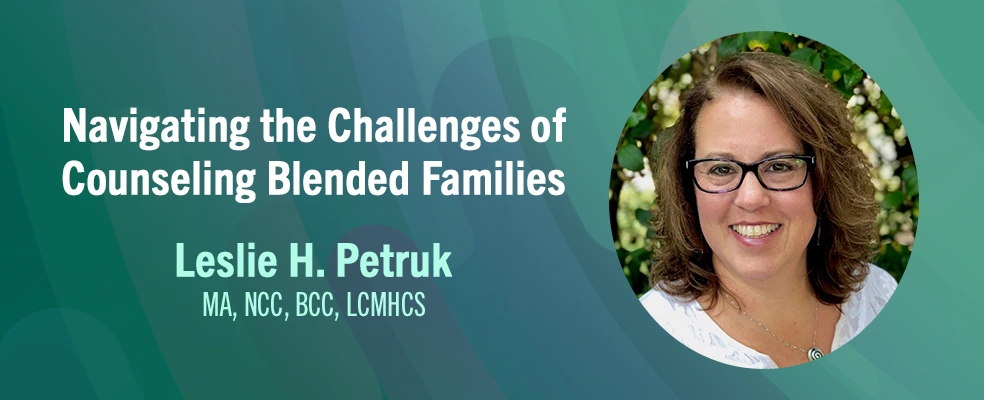 When parents enter into a new romantic relationship, the transition can be difficult for their children. As families become blended, there is a sudden shift into stepparent and stepchildren roles, potential sibling rivalries, a need for new boundaries, and perhaps even relocation to new homes and schools. The stress associated with restoring harmony in a newly combined family is something that couples and family therapists commonly see among their clientele.
After working with children for several years, Leslie H. Petruk, MA, NCC, BCC, LCMHCS, later shifted her focus to counseling individuals and couples, primarily families who are experiencing life transitions and have parenting-related concerns. The challenges that occur when bringing two families together arise naturally, she says.
"The dynamics that are present when blending a family are important to name and address," Petruk says. "For example, often kids are resentful and feel a loyalty bind when one of their parents gets remarried. Helping the parents give the children permission to have a relationship with and care about their stepparent is extremely important. Many times, the stepparent–stepchild relationship is fraught with tension because of the feelings around the remarriage and the loyalty that a child feels to their other parent."
Discipline is another area in which conflict frequently arises, she says.
"It is difficult for a stepparent to come in and discipline a stepchild, and it doesn't bode well for developing their relationship; in fact, it can create additional resentment and problems. I typically advise parents that they must be the ones to discipline their child. If there is stress in the relationship between a stepparent and stepchild, it's important to talk those things out. Parents often have a hard time seeing the situation through their child's eyes and experiences, so I work with them to help them understand why their child may be struggling with their [new] marriage and address the behaviors—which I see as symptomatic—that they may be struggling with."
When members of blended families seek counseling, they often present with high conflict and as struggling to find equilibrium, Petruk says, adding that it's crucial for parents to become curious about how each family member is feeling about the changes and why, and to understand that the process takes time.
"When blending a family, the parent often will expect their child to 'respect and care' for their new spouse. They are well-intentioned and desire for the family to blend smoothly. However, just like with any relationship, respect goes both ways, and it can take time to develop a relationship with a stepparent, particularly if they are bringing their own children to the relationship as well. Trying to force a relationship without consideration of what the child is experiencing doesn't work."
When parents lose sight of how difficult that divorce and remarriage of parents can be for a child, children often act out, and tension between the child and stepparent may heighten. Validating those feelings can go a long way toward improving those relationships.
"It's important for parents to stay in continued conversation with their child and allow for their feelings that may not be happy about the blending of their family to be expressed," Petruk says, "and acknowledging the loyalty bind they feel, letting them know that their stepparent is not replacing their other parent, but is an additional person to love and care for them. I talk to children about how there is always room for more love, and if they care for and love their new stepparent, it doesn't mean they love their other parent any less."
Favoritism is another common challenge seen in blended families, Petruk says, stressing that when parents downplay these feelings their children may be experiencing in order to hasten the harmony, their efforts will likely fail.
"This often arises in blended families, where children feel like their parent's new spouse's child is favored over them, and parenting styles can come into conflict between the parents and often need to be worked through as well," she says. "This is a huge transition for everyone, and it requires a lot of intentional conversations and room for everyone to express their feelings—even when they are negative—without judgment or shame. Parents often minimize this because they desperately want their families to blend smoothly, but ignoring or minimizing the impact on the children typically leads to more conflict and struggle."
Petruk says that both children and parents in blended families struggle similarly with the added stress and there is often a lack of communication.
"It can have a tremendous impact when children don't feel like they are being seen or heard," she says. "Children frequently feel like they have been 'replaced' by a parent's new spouse, particularly if there was a significant period in which the parent wasn't in a relationship. Introducing someone new isn't always easy and needs to be done with thoughtfulness and consideration of the impact on the child or children involved. Not doing so can lead to children becoming anxious and depressed.
"It is also important for the couple to be in ongoing communication about how they are doing as they move through the transition," she continues. "It's often more challenging than they had anticipated, and significant conflict can arise when the various dynamics are not being addressed. High levels of ongoing conflict within the partnership can also result in a parent becoming anxious or depressed."
Counselors can help parents develop realistic expectations and become better listeners.
"There is often a belief and hope that blending their family will lead to one big happy family like the Brady Bunch," Petruk says. "Helping couples adjust their expectations and tune into how this change is impacting each member of the family is important to build and maintain healthy relationships. Working through the challenges that arise in such a way that everyone feels like their voice matters and is important can help alleviate growing resentments and conflict among family members."
Parents may also need help learning to pay closer attention to what is happening within the family and providing understanding support vs. criticism or judgment about how a child is dealing with the transition.
"Acting out is a child's way of communicating that they aren't OK emotionally. Rather than focus on the behavior, which is often what happens, counselors can help parents to translate their child's behavior to understand what they are communicating and support them through the transition. Teaching parents how to support them through the process rather than just assuming they will adjust is a critical piece for counselors to consider when working with these families."
Regarding approaches to family counseling, Petruk is a certified Internal Family Systems (IFS) Therapist and says she loves this model because it is "non-pathologizing and facilitates the welcoming and befriending of all internal experiences of each person."
"Working to help parents become curious about the transition of blending families and welcoming all their thoughts and emotions around the blending of families will ultimately help them do the same with their children," she says. "I have found this approach to be particularly beneficial with the various dynamics and feelings that arise when working with a blended family."
Petruk recommends a "Divorce Do's and Don'ts" document that she has parents sign when beginning couples and family counseling. "Whether helping a child through divorce or transitioning into a blended family, this resource is helpful for parents," she says.
Ultimately, the best gift divorced parents can give their children is to learn how to cooperatively co-parent with their ex and support new relationships when a family is blending, Petruk says.
"Research shows that how parents negotiate their relationship with one another and their children in divorce is the best predictor of whether the divorce negatively impacts their child and what lasting effects it will have. It's not always easy, but putting aside their negative feelings toward each other for the best interest of their child will make for a much happier outcome and will keep their child from shouldering responsibilities and fears that children are not emotionally equipped to manage. Children need to know that they matter and that they aren't going to get lost in the transition of blending a family."

Leslie H. Petruk, MA, NCC, BCC, LCMHC-S, is a lead trainer for Internal Family Systems (IFS) Institute and a director at The Stone Center for Counseling & Leadership in Charlotte, North Carolina. She is a National Certified Counselor, Board Certified Coach, and Licensed Clinical Mental Health Counselor Supervisor. Her 4 Kids' Sake programs were developed to help parents with the challenges they face during each child developmental stage and to facilitate cooperative co-parenting when families are going through a divorce or separation.