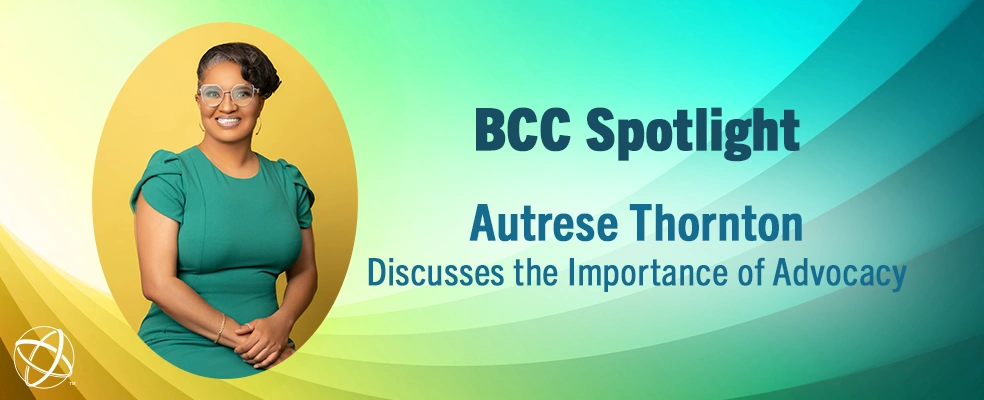 Autrese Thornton, BCC, has been an advocate for as long as she can remember. From her time as a church volunteer conducting outreach and missions, to her varied career in the human services field, her passion is strongly rooted in advocacy.
Over more than 25 years, she has worked as a special educator, assistant principal, teacher mentor, supervising service coordinator, minister, and more. She has also served as an executive board member for the Randallstown (Maryland) NAACP and an associate member of the Baltimore County Democratic State Committee. In 2021, she became a Board Certified Coach and founded her business, See Limitless, which aims to empower community members to embody their most authentic selves and to fearlessly execute tangible and actionable goals.

Through these professional, personal, and volunteer experiences, she has learned the importance of advocating for underserved populations, individuals with disabilities, veterans, the LGBTQ+ community, political views, and sensitive issues that are often overlooked or misunderstood. She recently discussed her experience as an advocate, the challenges she has faced and overcome, and why she believes advocacy is necessary for a well-functioning society.

What contributes to your passion for being an advocate?

Several experiences have contributed to my passion for advocacy. A family member I grew up very close with and I were born in the '70s. He was a part of LGBTQ+ community during a time when it was extremely difficult to identify as a homosexual black male. During our tenure at the same elementary and middle school, I observed him being bullied and chastised. Often, he was called names. I would witness this mistreatment, be called to action, and defend my family member from the injustice I would witness. I became his protector, and people knew it wasn't safe to mistreat him or they would have to answer to me. I would also have to defend and protect him from family members. 

I often reflect on this experience and realize my childhood was filled with so much drama and controversy because I was advocating for someone I loved and cared deeply about. I will never understand why people choose to alienate and mistreat people who are different. My passion for advocacy developed as a small child, and I have carried on with this passion through my adult life.  
What are the key issues in advocacy that you find to be the most important?
A very important key issue in advocacy is sustaining the original mission and vision throughout the duration of the work. Staying true to the person or issue you are advocating to support, being knowledgeable about the issues you are advocating for, and knowing the options are all very important as well. During your advocacy efforts, it's important to keep continuous communication with the people you are supporting. Aligning with the individual for whom you are advocating assists you with staying focused on the overall outcome during your advocacy efforts. 
Another key issue is being brave enough to speak out when you realize there is a need for your advocacy. Being an advocate is challenging work. An advocate must consider their audience and the approach carefully while communicating information. Your language, presentation, tone, and voice must be persistent. Advocacy allows an opportunity for education and awareness of issues for which one is advocating.
What challenges do you face and how do you navigate those?
As an advocate, you are often put in uncomfortable situations. When it's time to advocate, there is a small number of people who are brave and passionate enough to speak up. You can expose yourself to becoming a target or to receive retaliation. These actions can cause you to be silenced and no longer have a desire to advocate. I've also learned that advocacy can be challenging because people don't want to be held accountable. As a Black woman, I've been told that I'm too direct and need to soften my approach when I communicate. I've learned to be crafty with my presentation and tone, in hopes that people would listen to my message and value the input I am sharing. Through my advocacy journey, I realize it really doesn't matter how you communicate while you're advocating, sometimes people don't want to be held accountable for their actions. When you bring forth information and demand change, it can cause tension and people do not like to deal with conflict. When advocating, it is important to stay focused on the issues, have professional and personal confidence, and ensure the outcome is desirable for the party that one is advocating to support.  
Why is advocacy important for those who work in helping professions?
Without advocacy the individuals that we advocate for would not be able to take advantage of the benefits, safety, supports, services, or/and resources that we are fighting to get them. People often join the helping professions so they can serve and support. Most people who work in the helping professions want to impact change, and advocacy is one of the vehicles to assist with securing things that individuals need and want and that make them happy.   
Why is it important for community members in general, as engaged citizens?
Our democracy is at an extremely critical state at this time. We have to educate all members of the community about their rights. We often don't understand that democracy, voting rights, and advocacy are connected. They connect us to each other, and if we're willing to take action with our voice about our choices and preferences, we can make the overall community safer and a better place to live.  
What advice would you have for someone who wants to engage in advocacy work but doesn't know where to start?
Advocacy work is universal. When thinking about advocacy and what it entails, people may already be an advocate and may not realize it. I would encourage people to think about the people and issues they are already passionate about. Identify a local community group that supports their passions and identify ways they can join or volunteer. I would also encourage people to reach out to friends and family to determine if they can assist with their advocacy needs. In some cases, parents may need assistance with advocating for their child's education rights. Family members may also need assistance with advocating for their elderly or ill family members. Advocating for appropriate medical care and treatment can be strenuous. The more people involved to assist with advocacy for the common issue, the better! When there are many advocates, they provide additional support and may bring change quicker.    
How can helping professionals become better advocates and agents for change? Are there any resources you would recommend?
We all know the saying, "If you see something, say something." First, we need to be brave and speak up and speak out. We must also remain consistent in our efforts. Following up and revisiting issues and topics that are uncomfortable and difficult to discuss exhibits tenacity. Our willingness to engage in uncomfortable conversations assists with the development of plans that will impact change. We also have to build strategic alliances with organizations and groups that can increase our numbers so our advocacy efforts can be strengthened and valued. 
Autrese Thornton, BCC, received her bachelor's degree in special education from Coppin State University and her master's in leadership in teaching from Notre Dame of Maryland University with a concentration in administration and supervision.