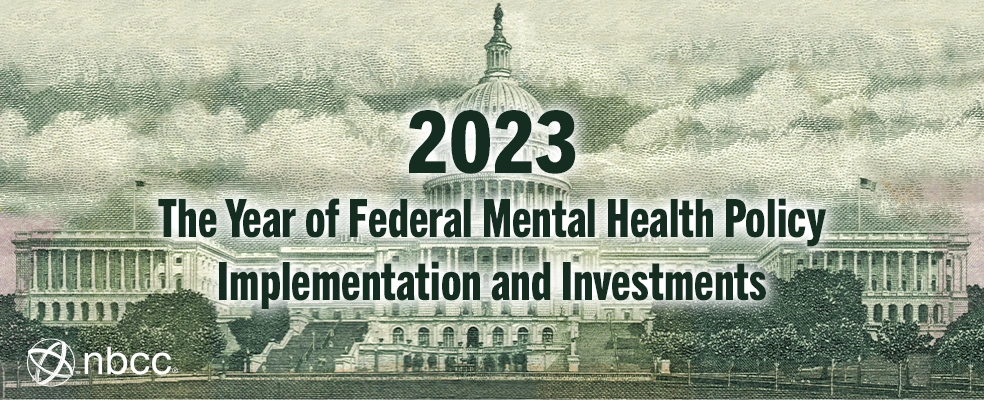 In 2022, the U.S. Congress and the Biden administration respectively passed legislation and issued executive orders that will significantly invest in resources to expand mental health services in schools, businesses, communities, and behavioral health delivery systems.
The breadth of federal activity to address the needs of Americans with mental health conditions will only accelerate over the next year as more funding appropriated in 2022 takes effect across several federal agencies responsible for behavioral health policy implementation. NBCC will continue to report on opportunities for counselors as new programs and investments are announced.
The key policy measures passed in 2022 that increased funding for behavioral health care services include:
The legislative measures represent the largest investment in mental health since the 1960s.
Addressing Mental Health Workforce Issues
The White House made an investment of nearly $1 billion to support the 988 Suicide and Crisis Lifeline. To ensure access to services, the Substance Abuse and Mental Health Services Administration (SAMHSA) recently announced the availability of more than $200 million for states, territories, call centers, and tribal organizations to continue strengthening 988 operations. The network receives approximately 100,000 calls, chats, and texts each week. Funding for the 988 Lifeline has been provided by the American Rescue Plan, Bipartisan Safer Communities Act (BSCA), and the 2023 Consolidated Appropriations Act (CAA).
To expand proven models of care and build capacity to meet mental health needs, the Department of Health and Human Services (HHS) has awarded 15 one-year state planning grants to help states develop the necessary capacity to compete to participate in the Certified Community Behavioral Health Center (CCBHC) Medicaid demonstration. Funding for the state planning grants was authorized through the BSCA.
Due to the Bipartisan Safer Communities Act, the Department of Education (ED) has awarded more than $280 million in funding to bolster the pipeline of mental health professionals serving in schools and expand school-based mental health services and supports. In May, ED announced $95 million of this total was awarded in grants across 35 states to increase access to school-based mental health services and strengthen the pipeline of mental health professionals in high-needs school districts. In addition, ED announced funding of $2.6 million for a Mental Health Personnel Technical Assistance Center that will provide guidance to grantees working to address the critical need in prekindergarten–12 schools for school-based mental health service providers.
The Health Resources and Services Administration (HRSA) will soon announce a new Behavioral Health Workforce Education and Training (BHWET) funding opportunity for approximately $8.4 million to support 16 awards to recruit and train providers to provide behavioral support to children and adolescents. The purpose of the program is to increase the supply of behavioral health professionals while also improving distribution of a quality behavioral health workforce and thereby increasing access to behavioral health services.
The Minority Fellowship Program was reauthorized to receive additional funding through 2027. NBCC advocated for the reauthorization of this important initiative in the CCA. The main purpose of the program is to recruit, train, and support master's- and doctoral-level students in behavioral health care professions by increasing the knowledge of mental and/or substance use disorder behavioral health professionals on issues related to prevention, treatment, and recovery support for individuals of marginalized populations.
As NBCC has reported, the CCA included the Mental Health Access Improvement Act language that allows mental health counselors and marriage and family therapists to receive payment under the Medicare Part B program for providing covered mental health services to Medicare beneficiaries beginning January 1, 2024. On July 13, the Centers for Medicare & Medicaid Services (CMS) released the Medicare Physician Fee Schedule proposed rule that will outline the enrollment process.
Increasing Access to Mental Health Care Services
The Health Resources and Services Administration has awarded $65+ million to 35 HRSA-funded health centers to implement innovative approaches to improve maternal health outcomes, address mental health issues, and reduce disparities for women from underserved backgrounds. The awarded funds will support underserved and rural communities as part of the White House Blueprint, a "whole-of-government strategy" designed to improve maternal health and mental health issues.
The Department of Defense (DoD) issued a new policy that makes it easier for service members to seek support by self-initiating a referral for a mental health evaluation through a commanding officer or supervisor. This policy, based on the Brandon Act, allows service members to seek confidential help, reducing stigma associated with mental health issues.
The Department of the Interior's (DOI) Bureau of Indian Education (BIE) initiated a Behavioral Health and Wellness Program to provide indigenous-focused, evidence-based, and trauma-informed behavioral health and wellness services and resources—including an expanded BIE-specific telebehavioral health 24/7 crisis hotline—to students and staff at all BIE-funded schools, colleges, universities, dormitories, and programs.
To help address the stress of family caregiving, VA has launched a pilot program to provide mental health services to caregivers enrolled in the Program of Comprehensive Assistance for Family Caregivers. This new program, established in coordination with the VA Office of Mental Health and Suicide Prevention, will rely on resource hubs—specialized centers focused on the unique mental health needs of caregivers through evidence-based therapeutic modalities, with services centered around couples and family therapy and the individual needs of the caregiver.
SAMHSA has launched a Behavioral Health Equity Challenge that will provide up to 10 awards to explore outreach and engagement strategies that foster behavioral health equity throughout the country. The goal is to identify and highlight outreach and engagement strategies used by community-based organizations to increase access to mental health and substance use prevention and treatment services for underserved racial and ethnic communities.
SAMHSA received billions of dollars in additional funding to increase access to services through the 2023 Consolidated Appropriations Act and will announce further investments in programs including new initiatives to address the opioid crisis.
Additional increases to access to care worth mentioning:
FindSupport.Gov – a free-of-charge, and user-friendly resource to learn how to get support for mental health, drug, and alcohol issues.
Mental Health at Work Initiative to promote key resources in support of employees and employers. The goals of the initiative are to advance wellness in the workforce by reducing stigma and increasing awareness of mental health and well-being.
Workplace Stress Toolkit to provide guidance and tips for employers, training resources, and outreach materials to reduce stress and burnout among workers.
Creating Healthy Communities
In May, the U.S. Surgeon General released a new Advisory on Addressing Loneliness and Promoting Social Connection. CDC also launched a new website for adults, which provides key suggestions on how to combat loneliness by improving social connectedness.
HHS has announced a new Children and Youth Resilience Prize Challenge, which will award $1 million to innovative community-led solutions to promote resilience in children and adolescents affected by the COVID-19 pandemic and other disasters.
SAMHSA awarded $9.7 million in grants through the Infant and Early Childhood Mental Health Program. The purpose of this program is to improve outcomes for children from birth up to 12 years of age by developing, maintaining, or enhancing infant and early childhood mental health promotion, intervention, and treatment services.
The Indian Health Service (IHS) is implementing a system-wide suicide prevention training for all staff to increase recognition and response to suicide within American Indian and Alaska Native populations. SAMHSA has awarded $6 million in suicide prevention grants across multiple programs to support states and tribes with implementing youth suicide prevention and early intervention strategies in schools, institutions of higher education, juvenile justice systems, substance use and mental health programs, foster care systems, and other child- and youth-serving organizations. Most of the funding is under the Garrett Lee Smith (GLS) State/Tribal Youth Suicide Prevention and Early Intervention Program and through the Bipartisan Safer Communities Act.
SAMHSA will soon announce $5.4 million in grant awards for Building Communities of Recovery to support mobilization and connection of community-based resources to increase access to and quality of long-term recovery support for people with substance use disorders (SUD) and co-occurring substance use and mental disorders (COD).
Congressional Policy Work Continues to Address Mental Health Issues in 2023
Despite a divided Congress, bipartisan policy work is under consideration that would continue to address issues that were considered in 2022 and have carried over to the 2023–24 congressional session. Below are a few we will be monitoring.
In addition to congressional initiatives, the administration will try to use its authority—through executive orders—to advance health and mental health policy, particularly to achieve mental health policy priorities where Congress may be unable to reach consensus, such as on mental health insurance parity issues.
NBCC will continue to monitor key mental health legislative and regulatory initiatives that provide support to counselors and expand mental health services to all Americans.