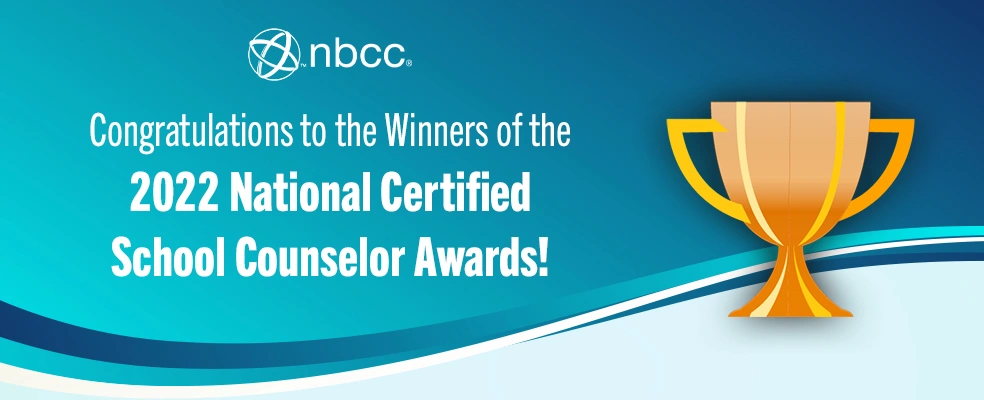 NBCC is pleased to announce the recipients of the 2022 National Certified School Counselor (NCSC) Awards. These awards were created to recognize school counselors who have made extraordinary efforts to meet the needs of their school communities. Each winner will receive $1,000 to advance their work with students.
Applicants shared the initiatives and opportunities that they created, along with a letter of support from a school administrator.
The 11 recipients of the 2022 NCSC Awards are:
Kathryn Braswell, Mallard Creek High School, North Carolina
Suzannah Cordas, Riverside Elementary School, Georgia
Julie Davidson, Del Webb Middle School, Nevada
Nicole Festian, Birmingham Public Schools, Michigan
Taneka Fuller, Bossier Parish Schools, Louisiana
Seleme Gilchrist, Mastery Charter School, Pennsylvania
Madison Harlow, Berry Creek Middle School, Colorado
Susan Jones, Ripley Middle School, West Virginia
Alexana Koishor, Notre Dame High School, Missouri
Ashley Thaxton, Weberwood Elementary School, West Virginia
Layla Touchet, Prairie Elementary School, Louisiana
Many of the winners already have plans for how they will use these funds to help their students, schools, and communities.
Suzannah Cordas, NCC, NCSC, LPC, a counselor at Riverside Elementary School in Georgia, plans to use the funds to create a program to help build her students' skills.
"I would like to use the money to develop a before and/or after school program to increase social skills and resilience in our students," Cordas says. "Using programs like Skillstreaming and group games and projects, we would work together to make mistakes and bounce back, to build resilience to adversity, and to build problem-solving and social skills. Many of our students struggle to get along with others and tolerate the frustrations that arise from working together in a classroom. My program would work to fill in these deficits and help strengthen our students and our community."
Taneka Fuller, NCC, NCSC, LPC, Bossier Parish Schools, Louisiana, plans to buy items that will help meet her students' emotional needs.
"I want them to learn healthy coping skills," Fuller says. "I want to purchase journals for my students. I want to show how journaling can help and give them a journal to take with them. I want to show students how to use a stress ball properly and be able to give them one. I want my students to be able to color in a stress-relieving coloring book when they are feeling overwhelmed/stressed and have access to it whenever they need it. I want to talk to my students who have ADHD about how fidget items can possibly improve their attention and give them one to try. I want to be able to give my students the tools they need in order to help them emotionally."
Susan Jones, NCC, NCSC, LPC, a counselor at Ripley Middle School in West Virginia, hopes to develop a mentoring program for at-risk students.
"Middle school students idolize the high schoolers. They watch them on the playing field and court, see them in our local parades, and hear of their successes. When I invite high school students to speak to our middle schoolers, our kids are glued to every word," Jones says. "I would like the opportunity to build this mentorship program so that our emotionally at-risk students could be paired with high school mentors who have overcome similar obstacles. Our kids need hope, and I believe they could best be helped by someone they admire and wish to emulate. In turn, I know these high schoolers, and I believe it would be encouraging to them as well, to have the opportunity to help someone younger who is navigating the troubled waters of life in areas where they too once struggled."
Thank you to all NCCs and NCSCs for the outstanding work you are doing in your schools and communities. The past few years have been especially challenging, and the support and attention you've shown your students is incredible. We celebrate your efforts!