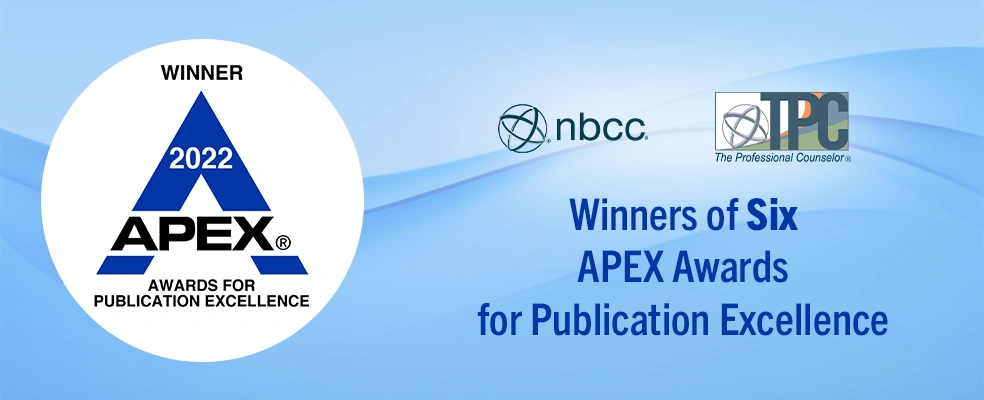 The 2022 APEX Awards for Publication Excellence have been announced, and members of the NBCC Communications Department and the editorial staff of The Professional Counselor (TPC), NBCC's peer-reviewed journal, received multiple awards again this year.
"Our team is incredibly dedicated to creating informative, innovative, and dynamic content for our readers," says Nikki Yannone, NBCC's Director of Communications. "While the motivation to do great work lies outside of winning awards, I am thrilled that the team is being recognized in this way. I consider myself lucky to work with such an amazingly talented group."
This year marks the 34th year that APEX has recognized excellence in publishing. The competition is sponsored by Communications Concepts, Inc., a company that helps professionals in the fields of publishing, public relations, and marketing improve their publications and communications programs through business writing and communications consulting services and reports. Awards are based on superior graphic design, editorial content, and the ability to achieve overall communications excellence. APEX Grand Awards honor the outstanding works in each category, while APEX Awards of Excellence recognize exceptional entries in each of the subcategories.
NBCC's Communications Department was awarded the following:
Grand Award – Newsletters: December 2021 NBCC Visions: Counseling Around the World
Design & Illustration – Design & Layout: Mental Health Connections: Cultivating Equity PowerPoint presentation
Design & Illustration – Posters, Displays & Calendars: NBCC Foundation banner
The editorial staff of The Professional Counselor (TPC) was awarded the following:
"We are so proud to bring home another three awards this year," says Catherine Clifton, NBCC's Director of Professional Resources and the managing editor of TPC. "This is the 10th consecutive year that TPC has won an APEX Award, and our total now stands at 18. It's a great honor and a testament to the hard work of our authors, editors, designers, and the rest of our team."
In this year's contest, there were more than 1,200 entries, with 100 Grand Awards presented in 14 categories and 485 Awards of Excellence in 100 subcategories.
"I see this as an opportunity to explore other ways in which we can strengthen our communication with our stakeholders," says Yannone. "I believe strongly in the work that we do and am excited to see how our team grows and develops their skills in the upcoming year. I know that they are up for the challenge!"