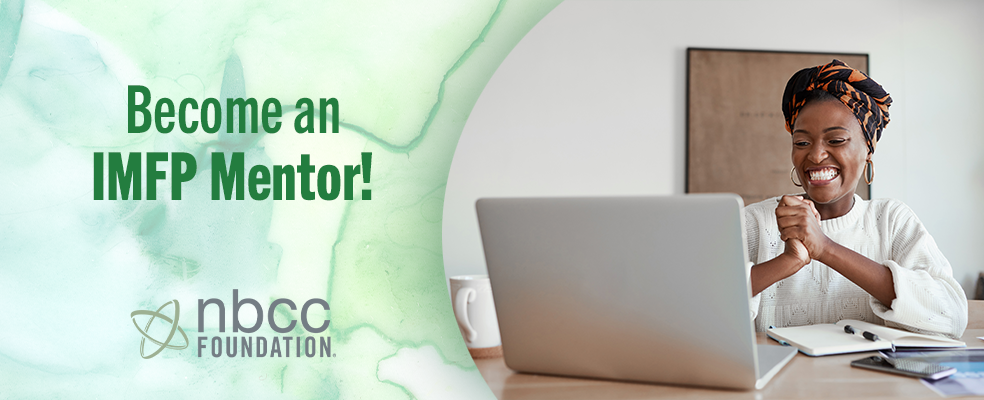 The NBCC Creed states that "Access and equity are essential to the profession of counseling and fundamentally important for the success of any society." Fulfilling this component of the creed leads NBCC to partner with other organizations to help further the development of future counselors, including the Substance Abuse and Mental Health Services Administration (SAMHSA), which offers the Interdisciplinary Minority Fellowship Program (IMFP). The IMFP is a collaborative effort through the American Psychological Association (APA), the NBCC Foundation, and three other behavioral health organizations.
The principal aim of the IMFP is directly related to efforts to reduce health disparities among racial/ethnic persons of color in the U.S. by filling a crucial need for behavioral health professionals in psychology, nursing, social work, marriage and family therapy, mental health counseling, and substance use and addictions counseling.
The IMFP supports 55 additional doctoral- and master's-level fellows each year and requires the expertise and support of leaders in each represented discipline. This expertise is provided by mentors—professionals who are well recognized in the field of behavioral health. The IMFP is currently seeking volunteer mentors from the mental health counseling community who will serve for at least one year and who have held their degrees for at least five years. IMFP mentors are ethnically/racially and gender-diverse individuals who possess knowledge and expertise of other diverse populations (e.g., disability, early career, national origin, sexual orientation).
The call for IMFP mentor nominations is open through Sept. 19, 2021, to those with five or more years of experience in the following fields: mental health counseling, psychology, social work, nursing, marriage and family therapy, and addiction counseling. Mentors will commit to a phone call with their fellow mentee once a month for an hour and will assist the fellow in goal setting and developing and implementing a career development plan. The term of service is two years beginning October 2021, with the possibility of serving a second term consecutively. For a full list of mentor duties and to submit a nomination, please visit the IMFP Mentor Nomination form.

Mentor
Each IMFP Fellow will be assigned a mentor who will provide regular guidance during the course of the fellow's appointment by the IMFP. Mentors will provide academic, professional, and career development guidance. Duties of the mentors include:
Schedule monthly time to meet virtually with fellow for at least one hour
Set goals and expectations for mentoring experience
Develop and implement a career development plan (also known as an individual development plan) focused on building the strengths of the fellows
Participate in interdisciplinary web-based seminars
Submit quarterly progress reports in collaboration with fellows; the quarterly reports will help monitor mentor–fellow morale and their progress made in the program
Represent one of IMFP's disciplines
Assist the fellow for at least one year (if the fellow is eligible for two years, then the mentor may be asked to assist for an additional year)
Approved nominees will be listed as part of a pool of mentors from which fellows can select. Fellows will be encouraged to select a mentor who has many (if not all) of the following characteristics:
Current interests/preferences
Academic/professional specialties
Geographic proximity
Expertise that will benefit clinical/scholarship/community project and professional development
Work published/presented in respected journals, books, and meetings
Fellows will be provided the following information about their potential mentor: first name, last name, race/ethnicity, gender, position, location, interest area(s), and credential(s). After reviewing the information about IMFP mentors, the fellows will provide their top three preferences and any additional information that would be pertinent for the staff to know for mentor assignments. IMFP will try to match fellows according to preference; however, it is not guaranteed.
Mentors will be matched with a maximum of two fellows. It is possible that a mentor in the pool will not be matched with any fellows for any given cycle.
Fellows will be encouraged to reach out to their assigned mentors at any time for questions, concerns, or advice regarding the IMFP, academics, career trajectory, networking, professional development, their university program, etc.
You can find the Call for Nominations PDF here.