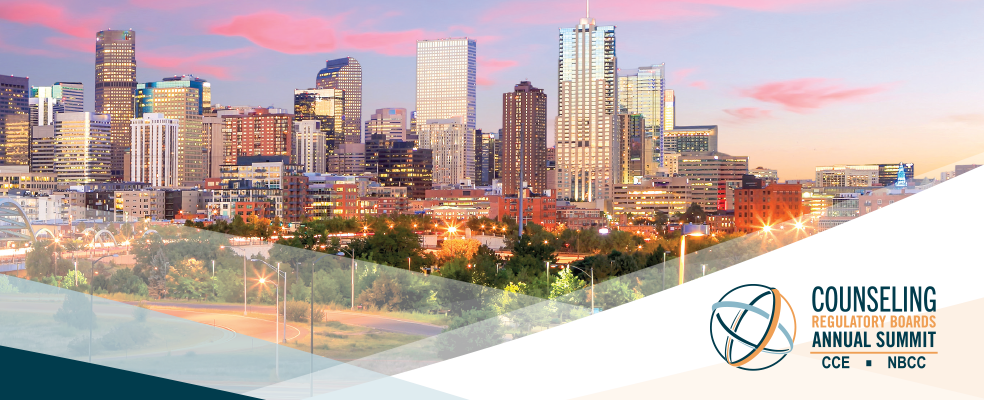 NBCC and Affiliates recently held the Counseling Regulatory Boards Summit in Denver, Colorado. This summit provided an opportunity for state regulatory boards responsible for overseeing the licensure of counselors to come together and discuss key issues impacting all states. Presentations included keynotes by Jim Puente, Director of the Nurse Licensure Compact, and Mike Veny, a motivational speaker who shared his personal journey to a space of health and wellness. Other presentations were provided by regulatory board leaders with a wealth of personal and professional experiences.
This year's summit celebrated the work of counselors and regulators as they have navigated the tumultuous waters of the pandemic. Kylie Dotson-Blake, President and CEO of NBCC and Affiliates, expressed NBCC's appreciation to regulators. Dotson-Blake recognized regulators' efforts to build paths through the complex maze of issues inherent in licensure regulation. She further noted their work to implement processes and mandates designed to connect counselors and their clients across the digital divide. Dotson-Blake affirmed the power of counselors, educators, and health professionals as warriors battling on the side of hope and health and weaving together resources to serve as safety nets for people and communities. She highlighted how these professionals recognized early on that the unprecedented nature of this pandemic would call for complementarity of services and innovations to achieve the necessary foundations of trust and connection with clients in an online space. NBCC lauded the significant work regulators have done to ensure continuity of care in extraordinarily challenging times.
Board executive directors and regulators shared specific responses that their boards implemented to address COVID-related licensure issues. Distinguished panelists Tobi Zavala (Arizona), Richard Strebeck (Mississippi), and Janet Hartman (Florida) discussed strengths and challenges and encouraged participants to consider how boards might integrate lessons learned into long-term positive transformations. Regulators also delved fully into the process of disciplinary deliberations, with David Fye (Kansas), Alesia Balshakova (North Carolina), Kyla Kurian (North Carolina), Greg Searles (Wyoming), Janet Hartman (Florida), and attorney Bob Lees sharing their expertise in this area.
The Interstate Counseling Compact was another key focus for the summit, with regulators having many opportunities to discuss the impact of the proposed compact on portability, sustained service provision, and telemental health services. The Counseling Compact may serve as a valuable tool to expand the professional mobility of counselors, and efforts to ensure the compact aligns with the essential components necessary for key public protections are important for the long-term effectiveness of the compact. To further support the long-term sustainability of the Compact, Dotson-Blake noted the importance of collaboration between NBCC, the American Counseling Association (ACA), and the American Association of State Counseling Boards (AASCB) to provide funding and/or resources to offset staffing costs for the future Compact Commission, and she reaffirmed the commitment of NBCC to collaboratively work with ACA and AASCB on this and other issues necessary for the Compact's success.
Regulatory board members continue to invest their energy and intellect in improving processes, increasing efficiency, and ensuring public protections. The summit is intended to highlight, celebrate, and promote those efforts, while offering learning opportunities tailored to areas of focus for the boards. The summit also allows NBCC and Affiliates to learn from counseling regulatory boards regarding ways NBCC can continue to help advance the profession. During this year's summit, the need for a fund to support counselors navigating disciplinary actions linked to addictions-related concerns was highlighted by a panel of experts from the regulatory boards, including Kevin Doyle (VA), Denauvo Robinson (NC), Janet Hartman (FL), and Danny Garnett (SC). Rhonda Bryant, Chair of the NBCC Foundation Board of Trustees, and Neil Duchac, Chair of the NBCC Board of Directors, immediately noted the ability to leverage the application and fund provision structures of the NBCC Foundation and the financial support of NBCC to address this area of need. Duchac and Bryant committed to having NBCC and Affiliates develop the structure for such a fund and convene a committee to oversee determinations of funding support. This fund will be developed during FY 22 and sustained through annual allocations of support and donor contributions.
In short, after a challenging year of pandemic-related responses, participants enjoyed the opportunity to reflect on lessons learned and opportunities at hand. NBCC, CCE, and the NBCC Foundation remain committed to supporting the work of the regulatory boards for counseling and promoting cohesiveness and collaboration across the profession. Protecting the public is the purview of licensure and certification, and that aspiration is best achieved when the professional organizations engage in collaborative ways with each other. The Counseling Regulatory Boards Summit provided a wonderful opportunity to promote and enhance that collaboration.