spotlight-christy-sims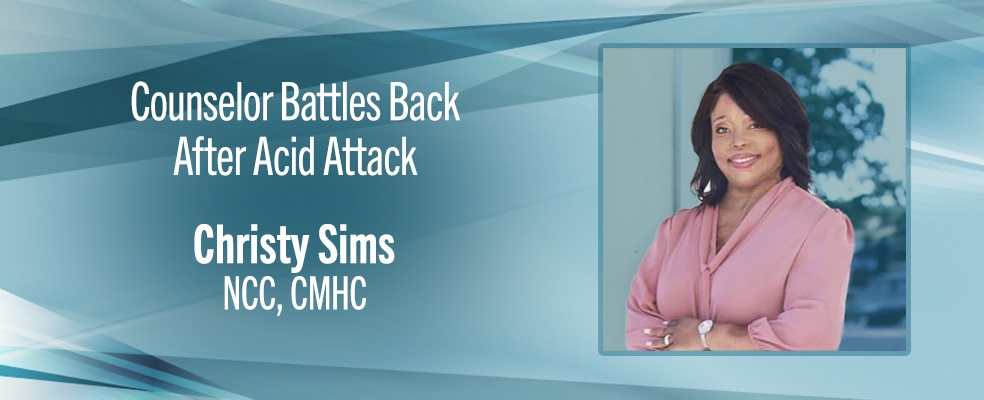 After Acid Attack, Counselor Fights to Support Domestic Violence Victims
On April 28, 2019, Christy Sims, NCC, CMHC, will be surrounded by empowered women who support her and each other—a day of celebration. On the same day in 2013, she had a very different experience. One that left her forever scarred.
Sims is a survivor of domestic violence, the only reported case of an acid attack in the state of Georgia.
Sims had been a successful real estate agent working in the Atlanta area for 17 years. But she enjoyed helping people and wanted to advance her capacity to do more, so she went back to school to become a counselor.
At the time of the attack, Sims had recently graduated from Mercer University, earning her master's in clinical mental health counseling. She was working as a first-year mental health and substance abuse counselor at a recovery support center.
She did not fall into the statistical mold of a woman in an abusive relationship.
"I was a professional counselor. I was a helper myself. I didn't see all the warning signs because I started dating this person before going to school to become a counselor."
Her boyfriend, angered by his suspicion that Sims was going to leave him, doused her with industrial-grade sulfuric acid.
Sims suffered third- and fourth-degree burns over 20 percent of her body, including her head, face, chest, and arms. The first two months of her recovery she spent in an induced coma, undergoing numerous life-saving surgeries.
After her initial surgeries, she spent an entire year behind a veil. She was so badly disfigured, she couldn't show her face, not even to her children, who were 10 and 13, for the first six months after the attack.
The most difficult part of her journey, she says, was being away from her children.
"For the first two years of recovery, I kept myself separate from my children's life," Sims says. "I didn't attend their athletic events, and I didn't drop them off for school. I was in the media constantly, but I didn't want other children to know that I was their mother. Children can be so cruel at that age, and I didn't want mine to be targets."
Soon after Sims started her reconstructive surgeries, she became aware of and distraught over the fact that her attacker was still on the loose. He had convinced the police it was an accident and the police had not interviewed her. All this time, she and her two children were at risk.
It wasn't until May 15, 2014, when Sims took her veil off during a television interview that viewers could see what had been done to her. That was when authorities started re-questioning her ex-boyfriend. He was eventually convicted in July 2015 of one count of aggravated assault and two counts of aggravated battery and sentenced to 20 years in prison.
Sims was enraged at the system and the process it took to bring her attacker to justice. She knew that her attacker had more rights than she did as a victim.
In an effort to provide more protection and to raise funds for victims, she created the Christy Sims Foundation, a nonprofit dedicated to advocating for victims of domestic violence and helping educate to prevent domestic violence.
As her reconstructive surgeries continued, Sims felt more comfortable with showing her new face, which changed drastically after every surgery, and being a spokeswoman against domestic violence.
Sims began to offer lectures and workshops to young women and men. The Yellow Tulips program works with women ages 13–24 to equip young ladies with the tools and information they need to make smart relationship decisions, and to provide a safe environment where they can openly talk about their own experiences and ask questions.
Manhood 101 reaches young men to provide outreach, education, and empowerment to help prevent intimate partner violence, as well as a safe place to talk and ask questions.
Sims' main goal is to prevent domestic violence before it can begin.
"If you teach boys and girls how to love themselves, how to love each other, and how to treat people in general, you won't get into these domestic violence situations."
Her victim's rights work continues to this day. Just last year she became a legislative advocate for Georgia to support a law that would provide equal protections for victims so they need not endure what Sims did during the two years her attacker was free.
Six years and 13 surgeries later, and having been interviewed countless times for national and international media, Sims is finally slowing down to focus on what she wants to do—be a mother to her children and restart her counseling career.
She was recently recertified, and she has counseling jobs in mind. She's eager to work with individuals after working with people on such a large scale.
Sims was scheduled for additional reconstructive surgeries, but she opted out of them.
"I had to make the decision to be OK with myself," she said. "I knew I would never be the person I used to be, so I had to make the decision to stop and just learn to be OK with who I am."
Sims credits her time in school for informing her process on healing and moving past her scars.
"Using the tools I learned, like self-awareness and self-checks, I didn't put blame on myself. I learned how to love myself from the inside out. I got a lot of that from what I learned at Mercer."
Sims knows her experience, though painful, tragic, and life-altering, will ultimately make her a better counselor.
"It was a journey from being someone who was a helper to someone completely disfigured, blinded, and unable to help anyone," she says. "But I've become a helper again through my foundation and my work toward recertification. My experience is what is going to make me a better counselor—helping people to understand and accept who they are."
---
Share On Social Media:
---
Read more articles