online-certificates-and-more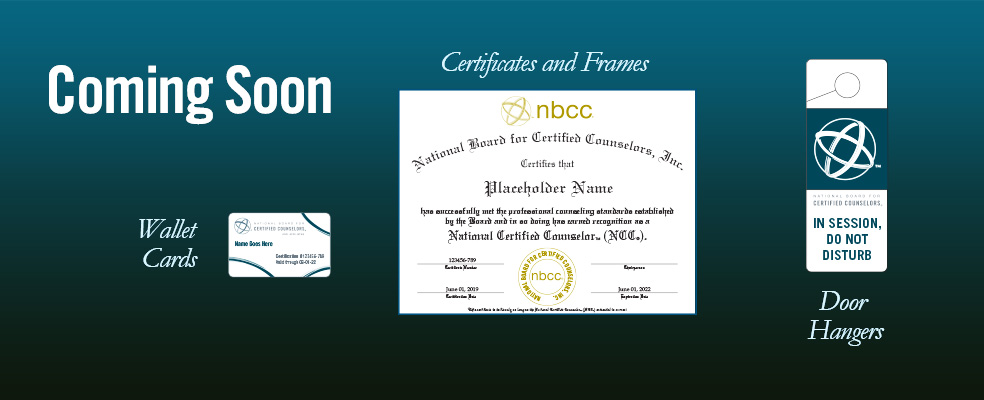 Board certified counselors can soon order as many copies of their National Certified Counselor certificates as they would like—and get frames and other extras at the same time.

Under a partnership with TheAwardGroup, NBCC is creating a simple, quick way for board certified counselors to obtain the free certificate they gain upon certification or recertification. In addition, the online system will allow board certified counselors to pay for copies of their certificate, as well as frames and NBCC-branded door hangers and wallet cards.

"Board certified counselors have long requested the chance to order frames at the same time they receive their certificates confirming their status as a National Certified Counselor (NCC)," says Michelle Gross, NBCC's Director of Certification. "Our partnership with TheAwardGroup not only makes this possible but gives our board certified counselors the ability to order what they would like when they would like it, and at a reasonable cost."

When the online system goes live, board certified counselors will be emailed a link to TheAwardGroup website, http://www.theawardgroup.com/NBCC, where they can browse or order frames and other materials.

As they are recertified, board certified counselors will receive a separate email to download their free certificate. In addition, all new certificants will be able to order their free NCC certificate online from TheAwardGroup, as well as purchase extra certificates or other materials.

The project to put certificates online is the latest in NBCC's ongoing efforts to reach counselors more quickly. Board certified counselors also can now:
Claim digital badges, a marketing tool that is a benefit of certification. The badges have been used by board certified counselors on social media, email signatures, websites, and other platforms.
Add their contact information to Counselor Find, a search directory exclusively comprised of board certified counselors that allows potential clients to directly connect with them.


Callie Marino, NBCC's Interim Vice President of Credentialing and Quality Assurance, says all of these benefits were initiated as innovative ways to meet the needs of board certified counselors.

"Our board certified counselors deserve the most modern approaches in serving the needs of their clients," she says. "If we can help by providing marketing tools or access, or even something as simple as a framed certificate, that is definitely something we can do to assist our NCCs."
---
Share On Social Media:
---
Read more articles