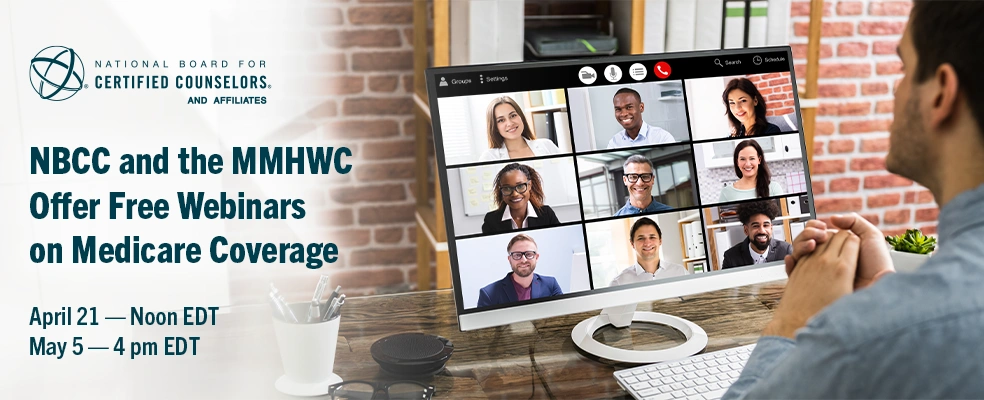 When the omnibus appropriations bill was signed into law in December of 2022, it was a triumph for counselors across the country. The inclusion of the Mental Health Access Improvement Act language accomplished what NBCC and the Medicare Mental Health Workforce Coalition have been working toward for decades: Beginning Jan. 1, 2024, counselors will be able to bill Medicare directly for covered services to beneficiaries over age 65 and people with disabilities who receive Medicare benefits.
Since this announcement, several questions have been raised among mental health counselors. To address these concerns and help navigate the forthcoming changes, we are delighted to announce that NBCC will host and co-sponsor free webinars with the Medicare Mental Health Workforce Coalition. Currently, two hourlong sessions are scheduled—Medicare 101 and 201. They will take place via Zoom on Friday, April 21 at noon EDT, and Friday, May 5 at 4 pm EDT.
"The passage of the Mental Health Access Improvement Act is one of the most important achievements the counseling profession has ever experienced," says NBCC's Legislative Research Manager, Jolie A. Long, MS, EdS, NCC, MAC, LCMHC. "It places counselors in a very advantageous position as providers of mental health services throughout the course of a person's life span. These webinars are designed to make sure NCCs are well-educated and ready to embark on becoming Medicare providers as quickly and easily as possible."
The webinars will explain the workings of the Medicare program and the initial actions that the Centers for Medicare & Medicaid Services (CMS) will take to implement the provisions of Medicare Part B coverage for counselors. Participants will have an opportunity to ask questions and earn continuing education hours for attending the live events.
Attendees will learn about the key components of the Medicare program including:
mental health benefits that beneficiaries receive
how CMS will implement Part B coverage of counselors and marriage and family therapists (MFTs)
key components of the Mental Health Access Improvement Act that are now law and will go into effect in 2024
implications for practitioners
NBCC and Affiliates Board Chair Monalisa McGee-Baratta, PhD, NCC, MAC, LPC, CPC, LMHC, LMHP, will introduce both webinars. Medicare 101 panelists will include Meredith Freed, MPP, Senior Policy Analyst for the Program on Medicare Policy at Kaiser Family Foundation, and Matthew Fullen, PhD, MDiv, LPCC, an associate professor of counselor education at Virginia Tech University.
Freed will provide an overview of the Medicare program and current mental health and substance use benefits that beneficiaries receive, and Dr. Fullen will highlight the provisions of the Mental Health Access Improvement Act embodied in the 2023 omnibus legislation and implications for counselors and MFTs. A Q&A session will follow the presentations.
At our Medicare 201 webinar, attendees will hear from key representatives from CMS about the new regulatory process for implementing Medicare Part B coverage. Doug Jacobs, MD, MPH, will be the key speaker for the Medicare 201 webinar. Dr. Jacobs is a board certified internal medicine physician and the Chief Transformation Officer for CMS. He will discuss Medicare implementation concerns for counselors and the Physician Fee Schedule process. Additional panelists will include Guila Todd, Government Affairs Manager for the American Counseling Association; Roger Smith, JD, Director of Government Affairs and General Counsel for the American Association for Marriage and Family Therapy; and Stephanie Katz, Esq., MPH, the Assistant Vice President of Policy and Advocacy for the National Council for Mental Wellbeing.
We hope you'll join us for these informative sessions as we celebrate this monumental achievement and discuss the next steps for counselors. We will continue to provide regular updates and have developed a Frequently Asked Questions on Medicare Part B for Counselors with helpful information.
"Counselors becoming providers in the largest health insurance program in the country is a testament to how the profession has grown," Long says. "This crowning achievement firmly places counselors alongside other master's-level mental health services providers as equals."