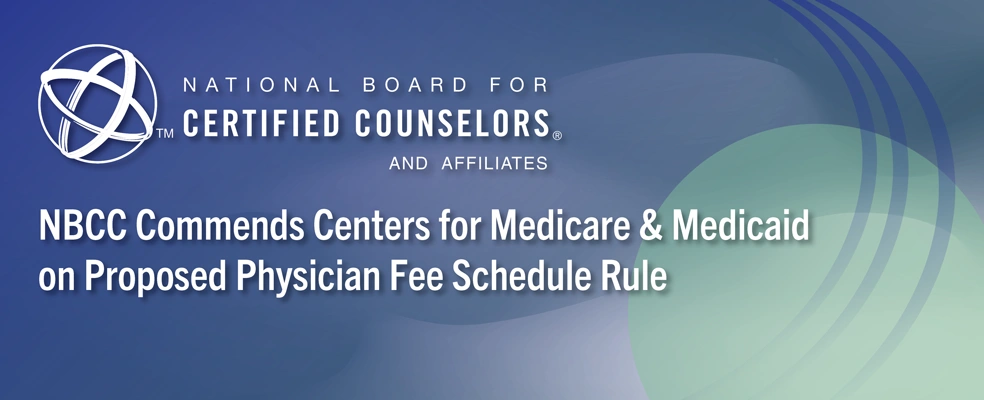 Since 1992, Medicare payment has been made under the PFS for the services of physicians and other billing professionals such as mental health providers.
As part of the PFS, CMS is implementing Section 4121 of the 2023 Consolidated Appropriations Act, which provides for Medicare Part B coverage and payment under the Physician Fee Schedule for the services of mental health counselors (MHCs) and marriage and family therapists (MFTs).
CMS is proposing to allow MHCs and MFTs to enroll in Medicare after the CY 2024 Physician Fee Schedule final rule is published (likely in November), so that practitioners could bill Medicare for services starting Jan. 1, 2024, consistent with statute. 
NBCC has reviewed the PFS pertaining to provisions affecting MHCs and MFTs, and in an official letter to the administrator of CMS, we have commended CMS for proposing several key important provisions that accurately reflect the legislation passed in the 2023 Consolidated Appropriations Act that included MHCs and MFTs under the Medicare Part B coverage program.
NBCC specifically commended CMS on the following provisions that included MHCs in specific delivery and reimbursement areas such as:
providing telehealth services

billing for codes related to behavioral health integration and HBAI (health and behavioral assessment and intervention services)

assigning low level of provider enrollment screening, comparable with physicians, which is the lowest level of enrollment scrutiny

qualifying for reimbursement under Rural Health Clinics (RHC) and Federally Qualified Health Center (FQHC) Rules and related service systems
We also made several recommendations for consideration by CMS on implementation of the PFS rule including:
1. Clinical Supervision Requirements
We thanked CMS for proposing an option of allowing applicants to have performed at least 3,000 hours of post-master's degree clinical supervised experience in place of at least 2 years of experience to achieve eligibility in the Medicare program. We highlighted that many mental health professionals continue to work under clinical supervision even after they have obtained their independent license. For those MHCs who may not have performed at least 2 years or 3,000 hours of post-master's degree clinical supervised experience before obtaining a license, we urged CMS to consider allowing these applicants to count such experience obtained after receiving their license. We also requested that for any MHC graduate who has not graduated within the past 5 years, or who attests that their supervision was performed by someone who due to death or disability is unable to verify supervision, be presumed to meet the supervision requirements if they are licensed in their state with similar requirements.
2. Medicare Advantage Plans
We requested that MHCs and MFTs be added to the list of providers that must be addressed by Medicare Advantage plans in terms of access to care and network adequacy.
3. Inclusion in Service Systems and Specific Provider Definitions
NBCC also requested that MHCs be specifically integrated into several service systems and definitions referenced in the Physician Fee Schedule rule such as:
HMOs and competitive medical plans

long-term care facilities

Programs of All-inclusive Care for the Elderly (PACE)

hospice interdisciplinary groups

home health services
comprehensive outpatient rehabilitation facilities

coverage for End-Stage Renal Disease (ESRD)
NBCC will issue a report when the final rule of the Physician Fee Schedule is released in the fall and highlight recommendations where we were successful in addressing the needs of counselors in the implementation of Medicare Part B coverage. We will also provide information on how counselors can enroll in the program and other updates.