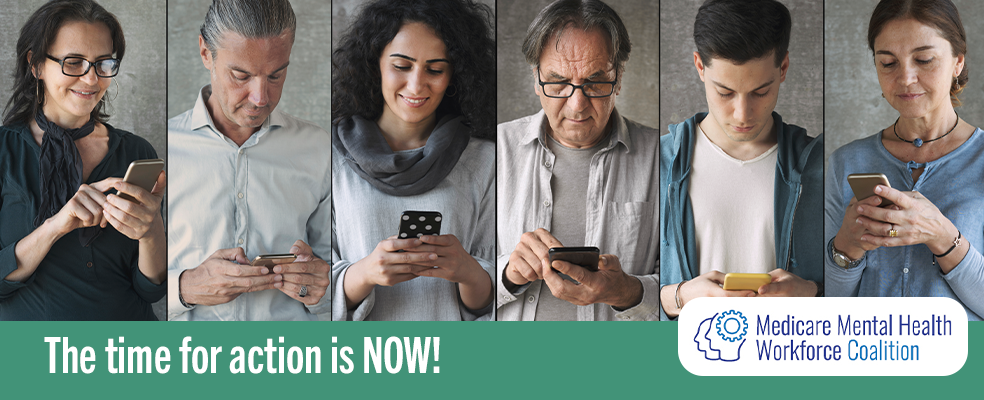 The Commonwealth Fund recently released a study that found that among older adults in the 11 countries surveyed, U.S. Medicare beneficiaries were the most likely to report being diagnosed with a mental health condition. U.S. respondents were also the most likely to report skipping needed care because of cost and worrying about material hardship. The study highlighted that despite the high need for mental health care services by older adults in the United States, the supply of mental health providers is low.
Currently, Medicare does not reimburse for psychotherapy services provided by mental health counselors (MHCs) or marriage and family therapists (MFTs). These two professions make up about 40% of the licensed behavioral health workforce in the United States, and they are covered by all other insurance providers, both public and private, aside from Medicare. With these professions shut out of the largest insurer in the country, Medicare beneficiaries are left without access for mental health treatment.
For years, NBCC has worked with the Medicare Mental Health Workforce Coalition (MMHWC) to support the passing of the Mental Health Access Improvement Act (S. 828/H.R. 432). This act would recognize MHCs and MFTs as covered Medicare providers and allow them to bill Medicare for counseling services.
Medicare recipients are at an incredibly high risk. The need for services is only increasing, and the need for change is critical. During the week of Feb. 14, we invite you to join us in advocating for this change. Contact your senators and representatives and request that they cosponsor S. 828/H.R. 432. If you are unsure of how to get started, visit our action center, where you can conveniently call, write, or tweet your members of Congress. With customizable messages, it is easier than ever to make your voice heard.
For those who are looking to become more involved, MMHWC is hosting an informational and action-oriented webinar on Feb. 24, with a goal to help connect participants to their members of Congress. We will provide the support that you need to call a representative or senator's staff and make your voice heard. Stay tuned in for more information. Together, we can make a difference in the lives of older adults across our country.
We are gaining support for this bill and want to use that momentum to get it passed this year. The timing of the current legislation presents an urgent opportunity, and it is imperative that we have a record-breaking number of people contact their members of Congress to show support for the needs of millions of Medicare recipients who lack access to mental health services.
Find more information about how you can make a difference on our website.