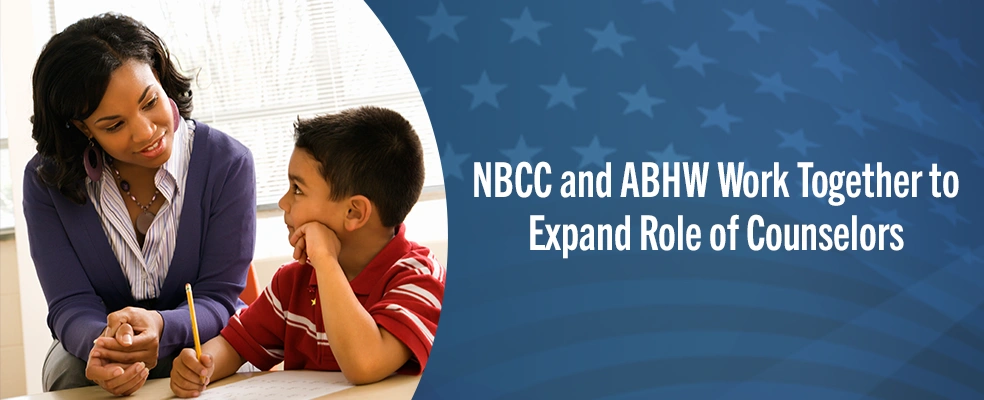 On October 28, NBCC leadership met with leaders of the Association for Behavioral Health and Wellness (ABHW) to discuss the participation of counselors in managed care and health plan networks. ABHW is the national association representing payers that manage behavioral health insurance benefits.
Representing NBCC at the meeting were Chief Operating Officer Rebecca Amburn and Executive Consultant Joel E. Miller. ABHW participants were Bernard DiCasimirro, chief medical officer for New Directions Behavioral Health and ABHW board member; Adam Easterday, vice president, regulatory affairs at Optum and ABHW board Chair; and Pamela Greenberg, ABHW president and CEO.
The overall purpose of the meeting was to identify opportunities for developing partnerships between counselors and health plans. A major objective was to identify and address barriers that counselors are experiencing in participating in health plan networks and integrated care systems. ABHW expressed particular interest in how counselors can address the needs of children with mental health conditions as part of integrated care programs developed by health plans.
NBCC shared information with ABHW about the high qualifications of counselors and their availability. There are 140,000 mental health counselors in the U.S., which represents roughly 38 percent of the entire behavioral health workforce. Due to current public and private sector coverage policies, counselors are an under-utilized segment of the behavioral health workforce.
"We are excited for the outcome of this meeting with ABHW and look forward to continued collaboration," says NBCC Chief Operating Officer Rebecca Amburn. "ABHW was receptive to the information we provided and eager to improve counselor participation in health plans across the country."
The meeting arose from initial discussions between the leadership of NBCC and ABHW to identify areas of common ground related to participation and payment issues experienced by counselors in managed care and health plan networks. This established the need for a forum to share the knowledge and skills that counselors bring to addressing the needs of health plans and their employer clients.
ABHW was founded in 1994 and is the national voice for payers that manage behavioral health insurance benefits. ABHW member companies provide coverage to over 200 million people in both the public and private sectors to treat mental health, substance use disorders, and other behaviors that impact health and wellness.